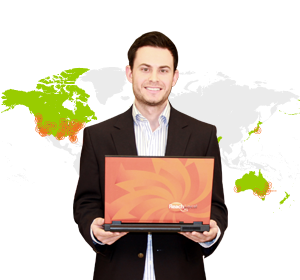 Dnspointers.com is a growing division of Trueline Technologies Pvt Ltd.
We are always on the lookout for "a few good persons" that can help make our business grow and prosper.
Located in Jaipur and New Delhi, we are in one of the fastest growing Hosting Company.
Currently we are looking for motivated people to fill the following position(s):
Customer Service Representative
A Customer Service Representative, is a very important role in our company. You will be the one who presents our companies image to the customer when assisting them on a daily basis. You must be self-motivated and eager to learn.
Job Description:
Provide support via telephone and live chat.
Ability to work well with the team in a fast paced environment, that's constantly changing.
Reasonable past experience in technical customer service field.
Ability to multitask and meet specific goals set by supervisors and management.
Experience with documenting certain tasks and procedures if required.
Knowledge of FTP, DNS, cPanel/WHM, Plesk is a plus.
Ability to perform basic troubleshooting tasks and technical procedures.
Required Skills:
Excellent written and verbal communication skills in the English language.
Experience with documenting procedures.
Able to work well with other team members and to provide inter-team guidance if required.
Ability to take notes in an organized manner a must.
Ability to work productively and efficiently to meet deadlines and quotas.
Analytical skills / Attention to detail.
---
Junior/Senior Linux Administrator
We are currently looking for a Linux Systems Administrator whom can work on the day or night shift in our Ashland, VA Data Center. This position would require that you are available to work on some weekends and are on an emergency call list.
Job Description:
Ability to install and maintain server OS's (CentOS, Debian, Fedora)
Manager customer relations
Setup and maintain monitoring and backup systems
Setup and maintain complex and high availability clusters.
Assist in server security and configurations.
Must be available for on call emergencies.
Required Skills:
Minimum 4 years Linux administration experience
Minimum 4 years building MySQL clusters
Ability to work in a high pressure 24x7x365 environment
Excellent verbal and written communication skills
Be a excellent team member for the server administration team
Strong familiarity with LAMP (Linux, Apache, MySQL, PHP)
Firewall and security experience
TCP/IP networking & troubleshooting
Ability to assist in topology design and implementation
Hardware /software installation
User/host account administration
Attention to detail / Extremely dependable
---
GUI/Webdesigner
Design is an extremely important part of the puzzle. Having a clean set of tools helps unite our customers, partners and in-house staff resources into a platform that makes daily tasks a breeze.
Job Descriion:
Design layouts for web pages
Blend creativity and programming skills to design web user interface (UI) applications
Improve visuals on web pages
Create designs that are usable and accessible
Work with new and existing code on a wide range of applications
Implement front end applications
Work in a fast-paced team environment, typically on multiple projects at a time
Write standards based semantic code
Create cross-browser front end solutions
Required Skills:
HTML/ XHTML / JavaScript / CSS
Tableless web design and layout
Web graphic design (Candidates must supply a portfolio of website designs.)
Project planning & scoping experience required.
Team member with excellent communication skills
Enjoy fast moving development cycles
Software Experience / Knowledge (Preferred, not Mandatory)
ActionScript 3.0
Adobe Flex
Adobe Illustrator
Adobe Photoshop
AJAX
Database optimization and profiling
Mobile web and social media development
Experience gathering and analyzing business requirements
Test-driven development
jQuery
Strong written and verbal communication skills