We have been providing complete IT solutions to small, medium and large businesses. Through our IT consultancy services, we provide technology solutions that focus on your business functionality, work efficiency and profitability. We provide custom IT solutions considering your business needs and budget. Take a look at our IT service offerings.
ERP Software/CRM Softwares
We help organizations develop and integrate ERP systems to help them streamline their data and processes. ERP applications we develop will unify the working of all business functions and ensures smooth operations. This is not all; we also provide ERP maintenance and support services that include upgrading and scheduling overruns. By automating business functions pertaining to departments like Sales, Administration, Human Resource, Finance, Inventory, etc. You can take your business to the next level by increasing operational effectiveness. Our ERP software solutions are robust, reliable, scalable, user-friendly and secure. Modular nature of the ERP software enables you to gain optimum and effective control over operations. The flexible configuration and functionalities will match your business needs perfectly. Our solutions enable you to get complete control over your business, and respond to its changing facets suitably.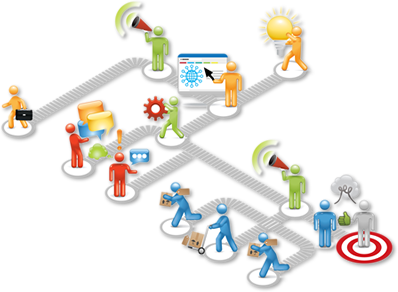 Customized Software Development
Our custom software development includes services in the field of Linux programming, Microsoft .NET development, Mobile Application development, and C and C++ development. Tell us your requirements and we will propose a suitable solution. Our qualified analysts carry out multiple rounds of software testing before the software is finally delivered. Our dedicated professionals work round the clock to achieve 100% customer satisfaction. We plan ahead of time, and deliver reliable and powerful technology solutions.
Information Systems Auditing
Today's institutions will perish in the absence of an effective auditing system in place. Our efficient auditors are concerned with safeguarding of assets, ensuring efficiency of a system and analyzing effectiveness of the integrated data system. We identify and make sure that there are no irregularities, or errors resulting in material losses. We deal with audits of various kinds, such as information processing facilities, systems and application, intranets, extranets, management of information technology and enterprise architecture and systems development. Our experts are working round the clock to deal with the rising expectations and requirements of the staffs and management. We provide you with resource gaps and expertise for your on going projects. We specialize in providing risk management and auditing functions.
Our IT services include integrated audits, with our auditors focusing on availability, reliability and integrity of the data available. The audits from the technological point of view, focus on application change control, users' accessibility in matters pertaining to administration, recovery backups, etc. The compliance audits include the FERPA or Family Education Rights and Privacy Act, HIPAA or Health Insurance Portability and Accountability Act, PCI or Payment Card Industry. The audits of IT governance also include reviews pertaining to delivery of quality IT services, establishment of internal controls, and business objectives. Information system controls the logical and physical security of servers, including monitoring, logging, system back up, disaster recovery etc.